Our Community
Supporting our #FortKinnairdCommunity
Through this unusual year and while we may have been quieter for some months, we have been working alongside our local community, hand in hand with our parent company British Land plc. We thought you might like to know what we're up to.  Throughout lockdown, the dedicated British Land Communities team has been working with our network of local partners to identify how together we can best support them. 
Community Investment Fund
British Land, our parent company, has been able to re-deploy £250,000 from within British Land's Corporate Investment Fund, to directly help communities across the country respond to the impact of Covid-19.
Shelter
British Land has also doubled its annual donation to Shelter to £50,000 to support its helpline, which has seen a sharp rise in calls from people worried about their jobs and homes as a result of the virus.
British Land Pride Alliance 
Here at Fort Kinnaird, we are also proud to work with our parent company British Land in advocating equality, opportunity, and support for LGBT+ inclusion, through their Pride Alliance.  This year we're supporting School Diversity Week 2020 from June 22nd, with our charity partner Just Like Us. It's a week designed commencing 22nd June 2020,  to support young people, by celebrating LGBTQ+ diversity and equality in education. While many students are still at home (or even in the school holidays)  there are still lots of ways to get involved. Parents, carers, and educators can find out more on the Just Like Us website: https://www.justlikeus.org/sdw
National Literacy Trust 
Gifting Book Bundles

– Did you know that 1 in 11 children and young people in the UK don't have a book of their own at home?

In July we gifted bundles of popular children's books and engaging activity booklets to the Venchie Children & Young People's Project in Edinburgh to support families in need during the coronavirus pandemic.   Three hundred children's books have been shared with local families, including Gargantis by Thomas Taylor and Guess How Much I Love You by Sam McBratney, along with free activity booklets filled with fun and educational worksheets based on familiar fictional characters such as Alex Rider, Judy Moody, and Maisy Mouse. 

Susan Heron from Venchie Children & Young People's Project said: "It's been great to watch so many of our local families get excited about the activity booklets and choosing brand new books to take home.

"This has really meant a lot to us and we know just how much of a difference they will make to children in our local area." 

This new initiative is led by Fort Kinnaird's co-owner, British Land, and the National Literacy Trust. It follows a long-running partnership to help encourage children to enjoy reading outside of the classroom and to provide them with the resources to do so.   With many children not attending school due to Covid-19, this project aims to help tackle the problem and give local families brand-new books and educational materials.  

Liam Smith, centre director at Fort Kinnaird, said: "Encouraging children to love to read and giving them access to their own books is so important, especially at this particularly difficult time.  We're really pleased to be able to continue to work with the National Literacy Trust to support amazing local organisations such the Venchie Children & Young People's Project." 

Jonathan Douglas, Chief Executive of the National Literacy Trust, said: "Books have the power to enrich children's lives – they fuel imaginations, help children learn new things and support mental wellbeing – yet hundreds of thousands of children across the UK are missing out on these benefits at a time when they need them most, simply because they don't have a book of their own. By bringing the magical world of stories into children's homes through brand new books, activity booklets, and incredible storytelling videos, this initiative will provide much-needed inspiration and comfort during a time of uncertainty." 

Young Readers Story Club

We're excited to invite you to the Young Readers Story Club which we've created in partnership with the National Literacy Trust.  It's a collection of exciting videos for children to enjoy, starting with inspirational tales of self-esteem.  See this and the rest of the free video collection on the National Literacy Trust website.

 
Fort Kinnaird Community – Our Retail Partners 
M&S' Colin honours Mcmillan

 – Macmillan's Coffee Morning is back!
Our M&S has everything you need to host the best Coffee Morning around. Throughout September, selected products in-store will donate 10% to Macmillan, including their limited-edition Colin the Caterpillar and Mini Colins. That's right, the nation's favourite Caterpillar has once again received a VIP Macmillan makeover – Colin and his mini friends are donning purple and green sprinkles to help celebrate Coffee Morning's 30th year.
Keep an eye out for our brand-new Macmillan trolley keyrings and pens on sale at the till points, with 100% of sales of these being donated to Macmillan!
Want to go the extra mile to help people living with cancer? M&S will also be offering customers the option to donate a pound (or any amount of their choice!) to Macmillan at all Foodhall till points at M&S Kinnaird throughout September. Simply ask one of the team and they'll add it onto your bill – it's as simple as that!
Amazing Colin The Caterpillar Recipes – Easy-peasy Colin the Caterpillar fridge cake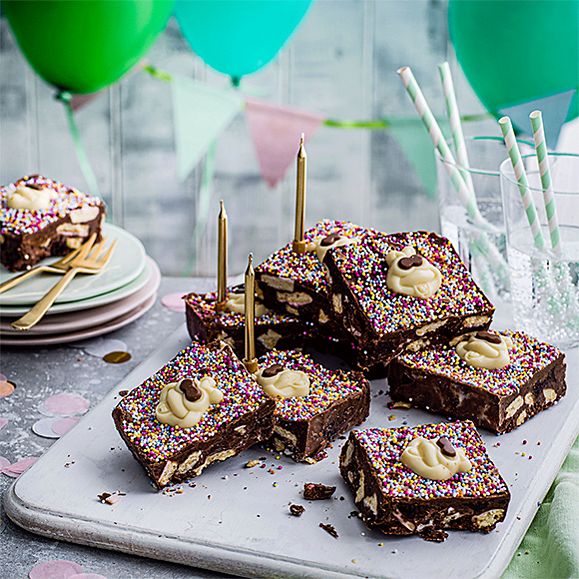 Ingredients 
125g M&S iced party rings
400g milk chocolate, broken into small pieces
75g butter
½ tub M&S chocolate brownie mini bites, each cut into quarters
100g white chocolate chunks
M&S jazzie sprinkles
Mini Colin faces
Method
Grease and line with greaseproof paper a large, deep baking tin (roughly 6-inch square).
Put the iced party rings in a freezer bag and bash with a rolling pin until you have 5-pence-sized pieces.
In a large saucepan over low heat, melt the milk chocolate and butter, stirring frequently to avoid burning. Melt until no lumps remain. Allow cooling for 5-10 mins.
Stir the crushed party rings, brownie pieces, and white chocolate chunks into the chocolate-butter mix until everything is fully coated.
Press the mix into the lined baking tin, smoothing until even. Sprinkle with jazzie sprinkles and top with mini Colin faces, spaced apart so that later you can cut the fridge cake into pieces that each have a face.
Put in the fridge and chill for a minimum of 4 hours before cutting into pieces.
More recipes on the M&S website.
M&S Foodhall supporting our NHS and Emergency Service Workers
The first hour of trading on Mondays and Thursdays will be dedicated to the older and vulnerable customers. For NHS and Emergency Service workers this will be Tuesdays and Fridays.  M&S ask their other customers to respect this request, as it's the kindness and support we show each other that will get us through this.
 Superdrug is inspiring us with some things we might do to support our wider community.
Last updated Wednesday 16 August, 2023