Halloween – Poison Apples
Toffee apples are a Halloween staple, so why not try making your own at home this spooky season with these simple yet effective witchy poisoned apples? Perfect for any Halloween spread, but probably best avoided with little ones due to the hard outer shell, these can be served with authentic wooden branches for the true witchy feel.
Adapted from this recipe and created with ProCook products, these are very straight forward to make, but require a little patience to avoid burning the sugar. Select your food colouring of choice, whether it's green, blue or purple, to create the beautiful yet deadly shine, and check out our recipe and ProCook product list below for guidance.
Poison Apples Recipe
Prep time: 1 minute
Cook time: 10 minutes
Servings: 4 apples
Ingredients
4 small apples
220 ml cold water
8 tbsp golden syrup
300 g granulated sugar
1 tsp black food gel colouring
Instructions
Remove the stalks of the apples, and skewer through the core with a pointed branch.
Pour the cold water into a saucepan and add the golden syrup and granulated sugar over a medium heat.
Stir together, add the food colouring and mix well.
Up the hob to medium-high and heat until it reaches 143°C (hard crack on a jam thermometer). DO NOT STIR once the mix begins to boil.
Remove from the heat, carefully tilt the pan and spin the skewered apple in the mix for an even coating immediately. You will need to work quickly here as the mix will begin to harden as it cools.
Place on a sheet of greaseproof paper to set.
Serve on the day of making.
Product used: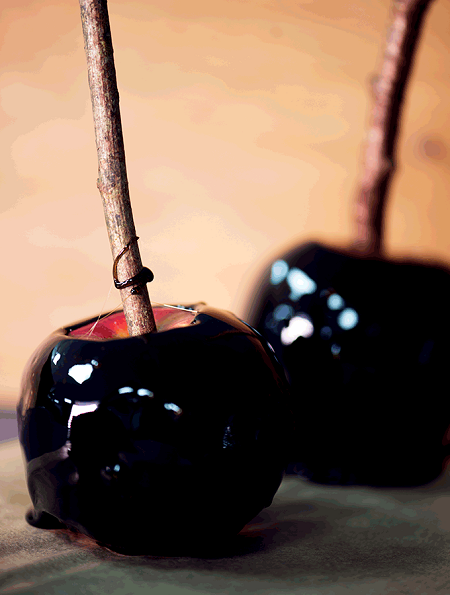 Last updated Wednesday 16 August, 2023