Hotel Chocolat Halloween Collection
Boo! It's time for Halloween treats. Come and trick or treat at our haunted house, where black cats slink along the corridors, ghosts wail in the attic and our resident witch has brewed up a cauldron of creepy cocktails. Scary chocolate caramels, spooky praline chocolates and Halloween treats including vampires, bats, skulls, eyeballs and pumpkins will accompany you – but they won't save you from the things that go bump in the night.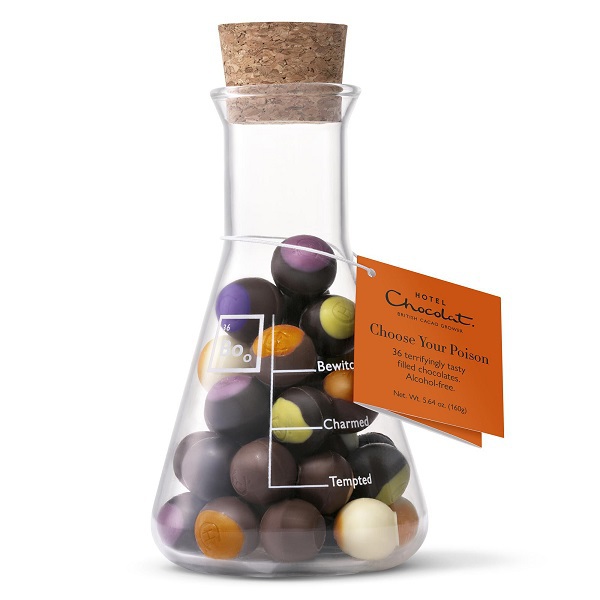 We've conjured up a potion fit for the very bravest – do you dare to dip into the creations of a mad scientist, or should we say mad chocolatier? Thirty-six alcohol-free and devilishly delicious, filled chocolates, perfect to hand out to any young tricksters. Our creations come served in their very own reusable glass flask, which you can enjoy even after they've all gone. Use it to serve your own creepy cocktails for an adults-only Halloween evening, or if you fancy yourself as a bit of a cook, then fill this glass flask with oil and your favourite herbs and spices to make your very own dressing.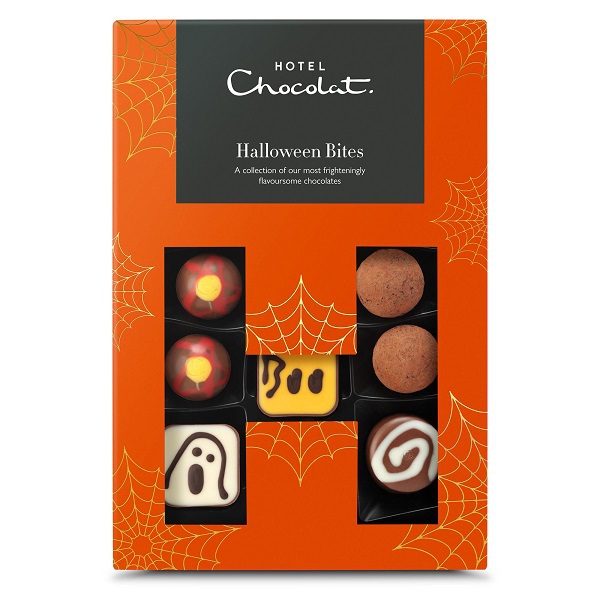 Our H-Boxes are designed to make you Happy – but this Halloween, it's a horrifying kind of happiness! Our classic chocolate box is filled to the brim with a mixture of our classics and our Halloween specialities.
We dare you to take a bite out of our Oozy Eyes; our classic 36% cocoa butter white and 40% cocoa milk chocolate crack open to release a gory red molten caramel. A delight to eat, as long as you don't think about the poor soul whose eyes you're eating!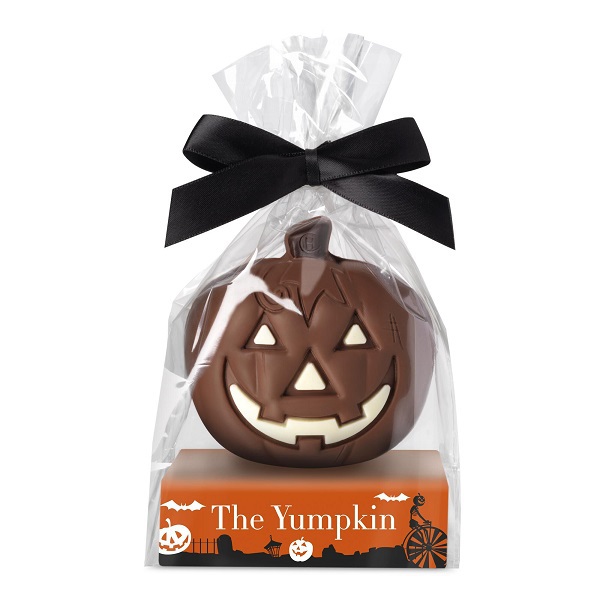 Not in the mood for pumpkin carving this year? Put down the carving knife and swap the laborious, time-consuming and inevitably messy task for a hauntingly good chocolate version instead. Easier and yummier – what's not to like?
Did you know carving turnips to ward off evil spirits dates back to the Celts? (Europeans who emigrated to the U.S. started carving pumpkins instead due to a severe lack of turnips in the New World) Pop our chocolate version in your window to keep you and your family safe from the ghouls of Halloween – we promise his piercing white chocolate stare and creepy grin will ward them off!
Last updated Wednesday 20 September, 2023