Investing in new facilities to improve accessibility for adults with serious physical disabilities
We're delighted to have recently opened our brand new Changing Places adult toilet following investment to improve accessibility for adults with serious physical disabilities.   The Changing Places adult toilet is specifically designed to help people with physical disabilities such as spinal injuries, muscular dystrophy and multiple sclerosis who often need extra equipment and space to allow them to use the toilets safely and comfortably.
Local MSP, Sarah Boyack, visited Fort Kinnaird last week and was given an update on how retailers are opening in a responsible way and what safety protocols are in place.  She was also able to open and view the new Changing Places facilities and learn how they are helping improve accessibility.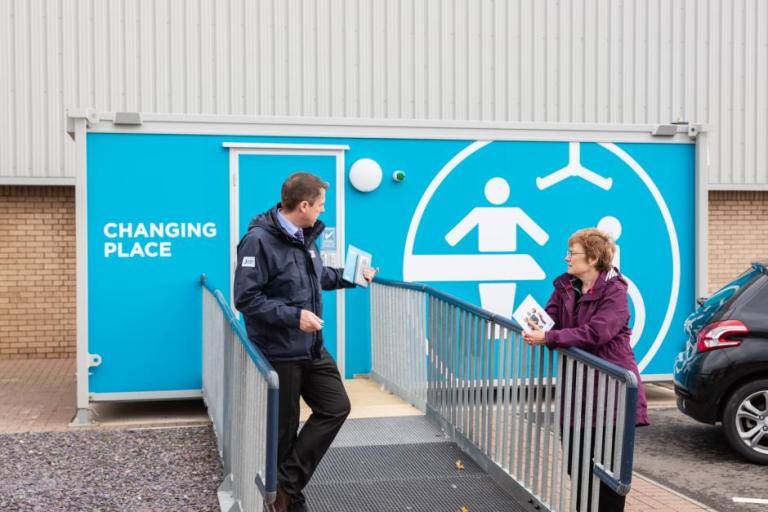 Liam Smith, Centre Director for Fort Kinnaird, said: "We had been planning the Changing Places facilities for a number of months before lockdown but I am delighted to now have these open and in place.  Making the site accessible and welcoming for all is a key part of creating that welcoming atmosphere at Fort Kinnaird and to ensure we can continue to play a key part in the Edinburgh economy."
Sarah Boyack MSP said: "Scottish retail has been hit hard in recent months, so it is encouraging to see outlets such as Fort Kinnaird work hard to support businesses, enabling people to shop safely as we come out of lockdown and ensuring accessibility for as many shoppers as possible'.
Find the Changing Places facility located between Currys PC World and the Odeon Cinema.
Find out more about Changing Places UK at www.changing-places.org
Last updated Wednesday 9 August, 2023